Every morning she came to my room almost at the same time. Sometimes on and off, five to ten minutes. Otherwise, eleven o'clock was her available time.
I usually kept my door open in the morning for her. The winter days in Kathmandu were so cold that I usually froze under the quilt in my bed. Due to excessive relative indoor humidity, the glass window panes would have long traces of water trickling down on the outer surface.
That morning, she didn't come to my room. First, I thought she might have been late for a good cause. I waited for her to show up the whole day until dusk; however, she never arrived.
Did she forget, or did she fall ill? There was no answer.
The pots and dishes were all strewn across the room, waiting for her to pick them up and take them to the sink. Since she did not come, I picked them up and piled them up in the corner. That demanded a tremendous physical effort from me. My whole body trembled, and I felt fragile. I did this breathing heavily.
She was an elderly lady of my grandmother's age. Tall and stooping. Frail and anemic. She was a hardworking old granny.
Whenever she arrived, she would open the door softly and enter the room. I would thrust my head out of the quilt and welcome her with my weak smile. She would answer me with her toothless grin. Then, she would start her scheduled job very professionally.
First, she would collect the pots and dishes to be washed and cleaned and take them out to the sink. After cleaning and washing, she put each kitchen utensil in its proper place. Then, she would broom the floor before mopping it with a wet rag. Even on a freezing morning or afternoon of cold January, I never saw or felt her doing her work sluggishly though her pace would often be slow. Her age and physical infirmity would not allow her to do what she had to do daily if she were rich or from a good family.
At least for an hour while she would be on her duty, I would not feel alone. Her short stay often consoled me for my gloomy existence in the room. She was, in fact, not only a maid but also the only slight chance of happiness and self-assurance for me. Every day I would fall back into the ditch of eerie silence, tortured by bizarre fantasy after her departure.
Her wrinkled face with sagged cheeks and lolling jaws presented a granny figure around me for at least an hour a day. My father came to my room every evening, except Saturday, after nine o'clock. He was my
cook who knew very well how to chop green and leafy Rayo and put it into boiling rice. When the leaves would be yellow in the hot boiling rice, he would put a pinch of salt into it, and my dinner for the evening and lunch for the following day would be ready. After that, he would hurry up to sleep with his wife and children in another part of the valley.
While observing his fatherly duties, he never felt or cared for my need for my mom's love and cared in that situation. Once, I asked him for his permission to call my mom to Kathmandu. He was so angry with me that he did not come to cook my food for two days. I stayed hungry with
just some biscuit packets and water for the time being. I cried a lot silently, all alone in the room. The next day, he came to me and made an excuse of being too busy the previous day.
Such a man he was!
It had been more than a year since I had been bed-ridden with chronic jaundice. I kept lying in my bed the whole day and night under the quilt. I could not walk, read, or do anything that needed even a small amount of energy. I can't tell whether that granny maid felt sympathy for me or not, but she was undoubtedly very professional. She neither talked to
more nor dilly-dallied even once after she entered the room.
"Granny, do you work any other places too?" I asked her one day. I was curious to know how she had been managing her everyday life.
"Yes, I have five other places like this," She replied. "I'm busy."
"Don't you feel tired?"
"How will I survive at this place if I am tired?"
"Do you have children?"
Her face twitched a little with this question.
"No … they all died." She snapped after a little while, "Do you think I would be doing this (showing the dirty dishes with all her arms stuck out) if they were alive?"
I could see anger in her lifeless face. Then, she said her two sons lived with their wives at different places in Kathmandu, and her only daughter had eloped with an unknown man some years back. Since then, she had never had any message from her.
In those days, she lived with three other friends of her age jointly in a rented room. They all worked as cleaners and sweepers in people's houses in the town.
Her story was much worse than I had imagined. I decided that she was an ill-fated one. The maid stood for me as a tall figure of inspiration for struggle in life. After a while, she completed her work and went away. I knew she would not return until the following day.
Why are some people so much unfortunate? What deprives them of the love of their family and children? What compels a person to work so hard even at this age? She could not even carry a bucketful of kitchen utensils being upright. She breathed heavily, coughed hysterically, and looked weary. It was her time to take a rest and be looked after by children.
However, this poor old lady had no such luck. She did all the toil every day for a month just for one thousand rupees.
Anxiously waiting for me in the village, my mother would soon reach her age. She would need my support and care. How unlucky she would think of herself if I did not recover quickly and stand by her side with a smile on my face. Perhaps she prayed for my recovery every morning and evening.
Being a single parent whose husband eloped with his own student in Kathmandu, where he had gone for further study, leaving her alone at his widowed father's mercy, she might have had many dreams that would never be fulfilled without her recovery.
Despite being an illiterate wife and mother herself, she always inspired me to get educated and make my future bright. However, it was my bad luck that I fell ill and took months to recover. I had no hope of immediate recovery at that time. My future had been misty, foggy, and blurred like a winter morning and was full of illusions due to my sickly
imaginations!
I came to Kathmandu after my school's final examination, called then SLC, to join college. My father, who had abandoned me when I was four, had agreed to pay my college tuition fee. However, I could not adapt myself to the new capital valley climate and fell seriously ill within two months. Then, all my ill-fated days lined up. That evening, my father, who came to cook my food, was worried and felt uncomfortable washing all the pots and dishes first. It took him more time than usual. He might have been more concerned about his wife's inquiry about his late arrival that evening. I finished eating up my dinner only at midnight, when I was already feeling sleepy.
The maid did not come even the following day. I guessed she must have been ill. If not, she must have been too busy like my father used to be sometimes.
At dusk that day, somebody knocked at my door. I had not latched it from inside. I stopped the sad music I was playing on the cassette and told the stranger, "You can push the door to open."
The house-owner lady whom I called aunty pushed the door open. She knew I was ill but was often afraid to come into my room for she was scared of contracting Hepatitis. She peeped through a small opening and said, "Do you know one thing?"
I shook my head for No. Then, she gasped a little and said, "The oldie who came to your room every day died last night."
I was gobsmacked. I had no words to say to her.
"But HOW?"
"People say she and her roommates had burnt some coals in a tray for warmth in their room."
Aunty said, "They were all found dead in their beds this afternoon due to asphyxiation."
The police took the bodies out, battering the door of their rented room."
I felt suddenly nauseous. That evening, I did not feel like eating. I felt as if she were in the room doing her work the whole evening. I can't remember when I fell asleep.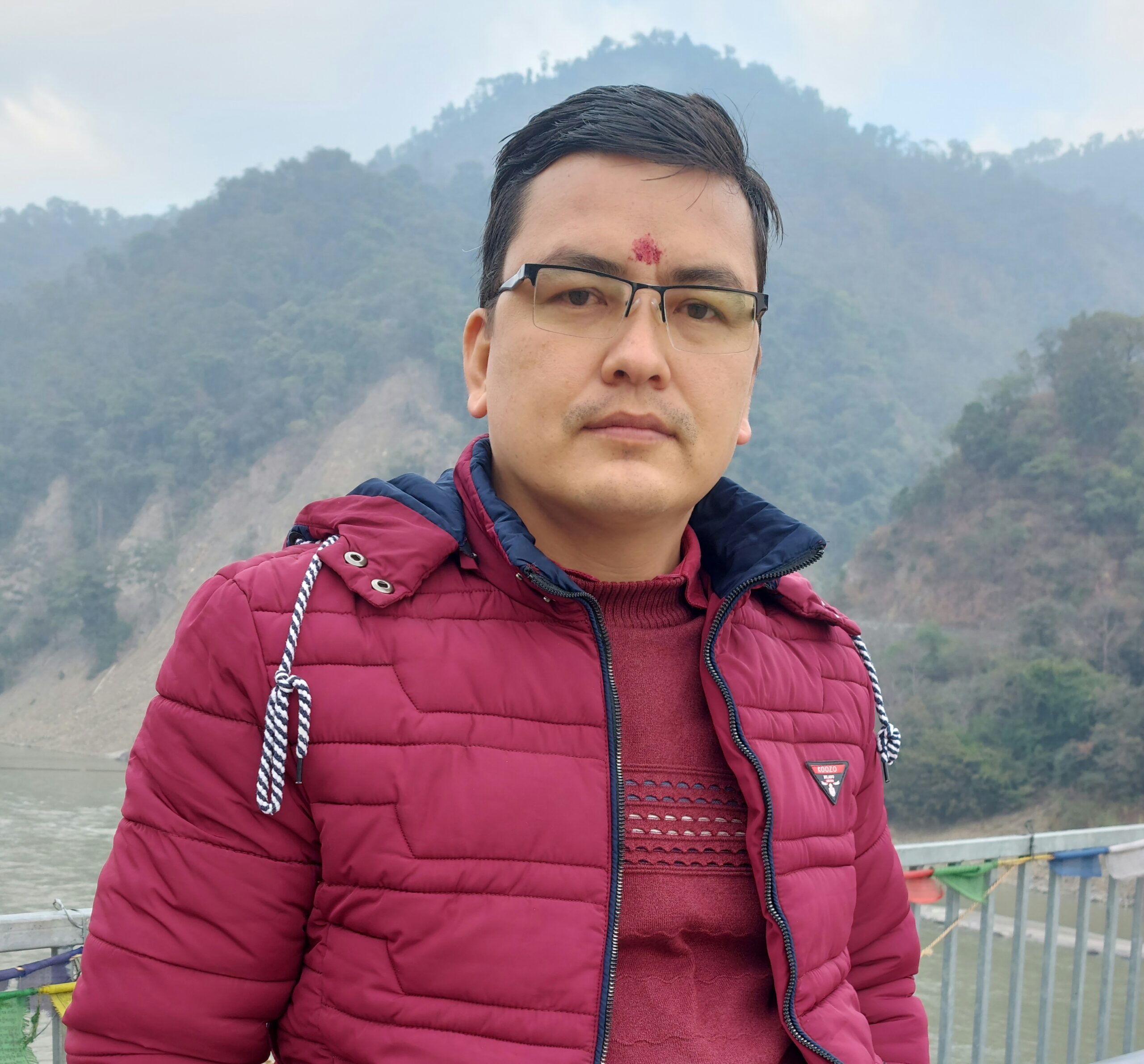 The writer Parshu Shrestha (1981), a lecturer of English language and literature and a creative writer, lives in Itahari, Nepal.