I
was scared. My scary face was visible to everyone. It is becoming red. There is a crowd and an announcement was saying the flight for the Moon takes place at sharp 7:00 am.
I glanced at my wristwatch. It was ticking 6:10 am. My heart beats very swiftly as if it disturbs other passersby. Everything around me becomes faded and darkness is hovering over me. This is because I was going to the Moon for the first time.
I thrust myself inside the rocket and sat on my seat. Passengers accustomed to this voyage are seemed to be entertaining. They were gossiping, chatting, looking outside, enjoying mobile games, watching movies, etc. However, I was restless and fidgety.
An air hostess approached near to me and offered me a glass of wine. I denied and asked for a glass of cold water, thinking it may calm me down.
The rocket started taking off from its launchpad (For Apollo 11 mission, Kennedy Space Center, Florida). It made a vast noise and sounded like a bomb blasting when the smoke of burnt fuel rushed off back from the nozzle. The rocket moves off swiftly forward. In school, I remember a science teacher saying Newton's third law of motion, stating, 'Action and Reaction are always equal and opposite.' I see the mass of the rocket on the display board. It shows 45,702Kg. I am surprised that Newton's third law works for such a substantial object too!
The distance from our Blue Planet Earth to its only satellite Moon is 384,400 km. I have learned in Science book. I realized what a vast space a universe has. This is beyond imagination.
The speed of the rocket was shown on the display board to be 11.2Km a second. I realized it was moving very swiftly. I remember the physics teacher explaining the escape velocity of the Earth. He said the escape velocity of the Earth is 11.2Km/s. This is the minimum velocity to overcome Earth's gravity and to escape off the Earth. I felt sad as I realized I was leaving our mother Earth far back.
I see outside, celestial objects such as stars, planets, satellites and the cloud were rushing swiftly in the opposite direction. I see the average speed of the rocket displayed on the board. It is 3280km an hour. I calmed myself. I thank god that the rocket had slowed down a bit!
I calculated the time to reach the Moon using the formula time equal distance divided by velocity and found 117 hours equals 4.8 days. What a long journey, I realized. I checked my bag to see if I had sufficient food or not—one-way trip of 4.8 days and a return trip of 4.8 days. If I roam on the Moon surface for some time, the whole journey becomes over nine days.
I need a lot of food in this voyage, I murmured. I see a lot of oxygen cylinders in the rocket for the passengers as there is no atmosphere on the Moon.
Suddenly there was an announcement, "We are very close to the moon; we reach there almost in an hour." I abruptly got up and realized that I was asleep. The command module of the rocket starts orbiting Moon and the passengers fall on the Moon's surface using the Lunar module Eagle that detaches from the rocket.
When I landed on the Moon, I realized that it was like a desert and rocky place. I saw footsteps on the Moon. Soon I understood that we landed on the sea of tranquility—the footsteps might be of Neil Armstrong and his friends. I saw a giant American flag standing unfluttered.
I realized that there is no atmosphere on the Moon. Unlike on the Earth, the sky is black. I was surprised a bit! I saw our mother Earth floating on the black sky. I screamed, "Hey, it is Earth right there," however, no one heard me because the sound doesn't travel in a vacuum. I remembered Physics theory.
There are no houses, no crowd, no highways, no countries, no continent, no river, no birds and no trees and nos of many other things. It was peaceful like pin-drop silence. "How alien, if any, would survive? What do they eat? How do they respire?" A bubble of thoughts went on my head.
In the daytime, it is very hot and night too cold. We spent some hours there. I remember the science teacher saying, "Only The Great Wall of China can be seen from the Moon." I tried to locate it but couldn't.
After completing the Moon visit, we returned to our rocket orbited Moon by the Lunar module and set our journey back to Earth.
The rocket was about its touchdown on Earth. I heard a knock on my door.
"Hey, wake up, lazy boy; otherwise, you miss your tea. The Sun is already up over the roof," my mom walked into my room, saying.
I woke up and realized that I was in a dream. My entire voyage was a dream. I washed my face, brushed my teeth and took my tea.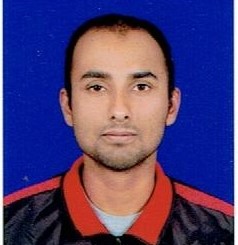 The writer holds an M.Sc. degree  in Physics and is currently teaching Physics in Colleges, Nepal.