Every year the month of May is Mental Health Awareness Month and it is a globally observed and recognized entity.
Mental health is as important as physical health. When we say 'Mental health', they hear it as 'depression.' NO. Mental health is not equivalent to depression. And again, depression is not as deadly horrible as it is stereotyped. Depression turns to be ugly only when we do not understand it closely and only when we do not see the tremendously effective ways available to kill it like a Bravo!
There are different types of mental illness. Depression isn't the only mental illness. Stress, anxiety, personality disorder, eating disorder, trauma-related behavior, substance-abusing obsession are a few other examples of mental health issues.
We make fun of people with mental illness and treat them differently than others. When you are a victim of mental illness, you aren't in a position to distinguish between what is wrong and what is right. Mental health can go very severe and might lead people to the point of time to kill themselves. And, we simply make our slogan "SUICIDE IS NOT AN ANSWER" or "SAY NO TO SUICIDE" That doesn't help anything. Being so superficial in making our understanding towards people who kill themselves after undergoing a long walk of mental health struggle and seeing no way out of life ahead is just going to be a stereotype. And also it isn't an 'Act of Looser' or 'Selfishness.'
What's our role to help suicide rates go down? Well, do we ever check up on our loved ones and make them comfortable enough to open up about their struggles?
We bully and criticize people based on their appearance or even in general. We ourselves push them to a point where they just give up and BOOM! So let's be someone who radiants love. Someone who is less of a critical person, who is helpful, and someone who listens.
For everyone dealing with mental health issues, you must have always been taught to be 'Kind'. Why are you kind to everyone around you but not to yourself? You are going to 'have yourself' at the end of the day. So why do you choose to be mean to yourself? Be kind to yourself and treat yourself the way you treat others. Communicate how you feel. You deserve everything. Self-love sometimes appears to be challenging but ultimately you can make it happen. All we need is a strong determination to live this 'Dear Life.' Society of our kind does not easily show empathy to anyone unless they are at the death bed breathing the last breath of their life. It is very wrong. We need to show timely concern and back up with support for people with mental health issues with kind and normalcy. Never stigmatize people with mental health. It is a killer treatment for this state of being. You are going to have problems, hardships, and self-suffering, come ups and downs and that is exactly what life is. You have to accept that a good day takes time to happen and it's okay to be patient than not be okay. Happiness is hard to find but accept that hard times won't last long.
Parents, there are many types of mental disorders and your child might be dealing with one of them. So parents need to create this environment where your child can express their feelings without being scared or without any hesitation for their own safety and relief. I really shouldn't say this but some of the parents themselves make their child feel like they are a failure or a disappointment which makes them a victim of mental illness. Your child's grade does not define their smartness. It's literally all about how skilled they are at memorizing and reading a book.
It sometimes seems teachers and parents never realize how much students do struggle with our never-ending assignments and the pressure keeps piling up.
First care for yourself, share your feelings and emotions with your parents, and 'Love Yourself' before anything else. Life is so beautiful. Mental health is not a disease but it is a state of mind being that you can easily come out of to love and live your beautiful life.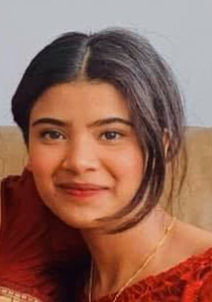 Writer Kasis Ghale is a Grade 12 student and lives in Canada.