As I look outside the window, through the flashing green of my money-plant that sways with joy, a couple of sun rays miss it and fall straight on my forehead, planting warm kisses. The rays now fall on my feet and make an artistic design on my floor, something my art teacher would've given an A+ on a school test.
Yesterday, the local government came and chopped down two giant trees that blocked the sun rays from entering my humble cave during the bleak pandemic afternoons.
The trees were the shelter of over 20 bats. Bats are the size of a grownup male cat and they dwell there hanging upside down, gloriously covering their faces with their flawless cape-like wings. Those majestic beasts, glorious to look at, dangerous enough to shut down the globe for over a year.
Until a couple of months ago, in dreaded afternoons- they reminded me of long silences that were only meant to grow longer as the evening approached. The quiet would ring unhealthy tunes in my ear and no matter how much I tried to shake it off, it only grew louder.
I wonder where the bats would migrate to and whether the trees had to be absolutely chopped down. They had permission. It is practical to cut them down during the rainy season as the branches could fall and break public property or hit pedestrians. But 'rainy season' is technically over – I argue with the tunes, there is no response.
A couple of months later, the sun feels good on my skin. It allows me to stare at it for a couple of seconds and recall all the times I didn't notice it. All the times I didn't need to see all the things I got for free – the sun, water bodies, mountains, air, wind, the sky, the list goes on and on and I start noting down all the things I've never noticed, like:
The bark of the tree that touched my roof grew on the other side of the road I had never noticed.
My neighbor has a gorgeous smile.
Books are indeed our best friends!
I know what's happening – I try to catch the sun rays but it's beyond my reach like most things are these days. The heart is coming to its own. Like a caterpillar right before its wings break out uncomfortably and then all at once. Like a legless tadpole that grows legs to jump higher and higher each time. Like a thief meditating under a tree waiting for awakening.
'Things change. Thoughts get shaken up to the core. Ideas get crushed. Sense of self is altered. Transformation is set in motion.' I play some calming music.
I close the window and wave the sun goodbye. I pick up the novel I'm reading currently- She'd managed somehow to avoid the hard edges of the tables and chairs on her way down, but despite her protests and to her great embarrassment – it had been just a little fall, she argued indignantly. The kind that happened to everyone from time to time.
I can't help but wonder if the bats will fly back someday, if the butterfly will like its new name, and if the tadpole will jump higher enough to be able to see outside the well.
The alarm rings. I get out of bed after relentlessly checking my phone. I look outside the window and look up at the only tree standing, lost all by itself. I smile as I see one hanging bat upside down on its branch, peacefully wrapped up in its warm cape-like wings.
The butterfly will eventually like her name. The tadpole will finally jump higher. And the thief will someday strive to be a better man.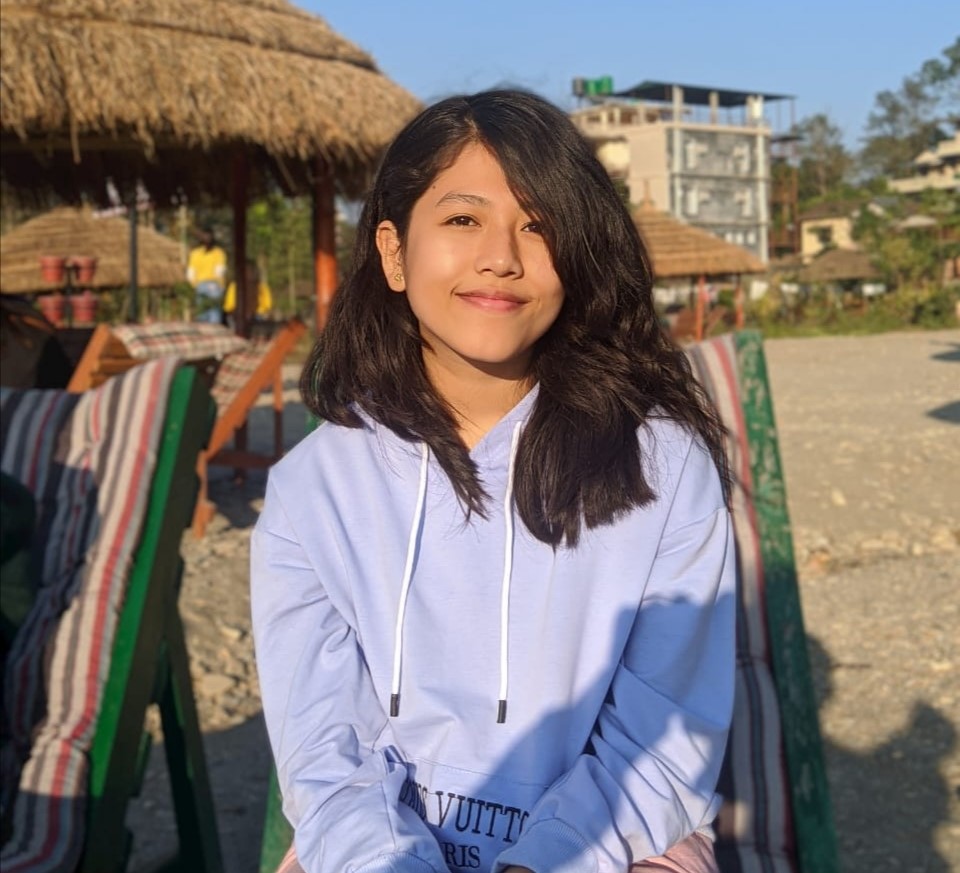 The writer is currently pursuing her Bachelors' Degree in Law in Nepal. Along with her academics, she is  more into music, literature, cinemas and books.