The moment when I remember, it freaks me out. If truth be told, it pisses me off.
I was prospecting to go nearer to her, but I was horrified of being infectious too.
My body just split into multiple crystals. The brain said, "Don't go; stop attempting your life in trouble."
In another way, the heart says, "Go, she is your sweetheart."
She is just like an analgesic in your hard times. The one who is fond of you and cares for you. The most beautiful part is that you enjoyed her troop, and she, too, wholly lost over you.
But some factors are hindering me from the backside, yelling hardly not to do this.
She was just helpless, lying in bed staring only at the ceiling, and she looked 'alive.' She is thirsty for someone to listen to her…Her unexpressed inner beneath feelings is saying that.
I was compelled to restrict myself from approaching her. My parents were also not allowing me to meet my love. My inner urge was aching and blazing badly. I was longing for a nearby with her. I was hardly holding for that dreadful days to pass.
I felt like those days were being more longer compared to previous days.
Finally, the day came when she became pretty good. When I heard this news, I felt much happy. I was eagerly seeking a chance to see her. Before this beautiful moment came, I only could listen to her voice. The physical distance wasn't far, but the 'social distance' was.
I asked my mom for permission. "Go but see her from as far as possible from you," she replied. "She is not fully fit to come in contact with people till now. Stay alert!" she added.
Responding 'Okay' to mom, I went to look at her.
My eyes got watery after seeing her. My eyesight was longingly waiting for her one look, her wrinkled face, her small Mongolian eyes, her blissful smile, which always gives me strength to cope with the difficulties in life.
Thulmommy(dad's sister-in-law or mom's older sister) was also there with me. We were sitting like being close but with the 'stupid social distance' in between and were chatting with her.
Amidst the talk, I realized that she was completely unknown about her condition. She hadn't known that she was tested 'positive' too. She was convinced that she had only got tested. The results were still pending in her understanding. The chat continued for a while, and we left.
Thereafter, I started to recall our funny moments of being together. Abruptly, a slight drop from my eyes falls. Then, I took a deep breath and prayed for her and other sufferers too.
Some days after, I heard that her breathing started to be complicated, especially at night. She felt innerly suffocated, getting rigor to breathe. By that, her condition was getting crumbled.
Day by day, the outbreak situation was becoming more sensitive and ghastly too. Several lives were degrading and collapsing day after day. Such news was badly stressing her mental health. She was a stressed one.
Due to that isolation, she was encircling with despondence and fearsome battling with that illness. Keeping up the desire to live was a big challenge for her. She was losing the love of life. Most of the time, she was saying that she wouldn't survive. Her wish was to be with her entire family. She was longing for a will to see her whole family. After some days, her entire family was there as per her demand. They started taking proper care and attention to her.
To avoid her loneliness, they encircled around her most time. She was recovering slowly by winning her demand for family's presence around her. Again, her inner wish to live starts to grow up with new hope and strength. Seeing that, I was feeling divine. My desire to be nearer with her and old days cracking funny memes was revolving around my brain.
Thank God! She was with me. My granny dearly managed to win over the lethal virus. I went to her, had a never-ending chat with her, giggled at her, and hugged her. Thank God for making me fortunate enough to have my Granma perfectly smiling with me now.
Looking at her brightly shining face, I said to myself, "My dearly loved Grandma, you can not die. Grandma, you are an analgesic to my sufferings."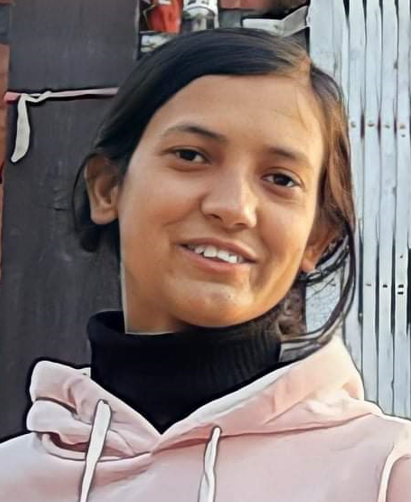 The writer, a student in Public Health Education, is from Salyan, Nepal.