"What was that? Is there blast somewhere in the vicinity?" I said to Peter. "No, it is not a blast. I think there is a supernova explosion right there." Peter replied, pointing to a distant place like a massive blaze.
I saw outside and said, "Yes, that's right, that seems to be a supernova explosion. Look, a piece of debris is coming towards us," I said when I saw a fragment nearly the size of two Suns that seemed approaching towards our spacecraft afar.
"We should move our spacecraft fast; otherwise, that may engulf our spacecraft," I added.
"Right," Peter said and moved the spacecraft fast.
Once we confirmed that the debris had vanished into the space
"Thank god we are safe. How far are we from the Earth?" Once we confirmed that the trash had disappeared into the vast unknown space, I asked Peter.
"We are about eleven Astronomical units off the Earth," Peter replied. "Oh," I said.
We were heading towards a mysterious planet identical to the Earth. The mysterious planet named Beta -89 is beyond our solar system. It had its own stellar system containing a colossal star of about twenty twenty-four mass at the center, surrounded by 984 Planets revolving around it.
This information was captured by a vast and powerful telescope named Actina-41, launched into space almost sixty sixty-two years ago.
Once it was confirmed that there is a planet similar to the Earth, we set out from there. We left Earth nearly eight years ago, and we have engulfed almost eighty percent of the distance.
"The fuel tank and our food stock is going to be empty soon. Let's land into the planet right ahead and take some food and fill our rocket fuel," Peter said.
"Okay," I responded.
After eight days, we landed on a mysterious planet. We saw creatures very different from us. They seemed all naked, head to toe. All the creatures were lanky, with delicate and skinny body parts– small head, thin legs, thin hands, slim and short neck. They almost didn't have their stomachs and a small plain nose and tiny mouth. Their eyes were very tiny.
Their body anatomy helped them adopt nearly six times Earth's in this planet of gravity. I got surprised when I saw that they had green skin. I somehow got scared too.
Suddenly a guy approached us.
"Who are you, and where are you from?" he asked, targeting Peter.
"I am Peter from Earth," Peter replied.
Peter asked the guy and found that his name was Inferno. He further requested to know which planet was that.
"It is a planet Vesma," the alien answered. That was the giant planet of their stellar system, just like Jupiter. The planet was prettier than our Earth, and the star was so big that it seemed much bigger than our sun and some of its satellites were even bigger than Earth.
I was shocked that there were no plants that he said. "Why don't you plant trees?" I shot my wonder out to him.
Inferno said, "We breathe in carbon dioxide gas throughout the entire body, so we don't need trees, and we use our nose just to breath off oxygen," Inferno explained.
When Peter asked Inferno about the food stall to buy some food, he said, "We don't need food as we have chlorophyll on our skin and we are autotrophs; we have photosynthetic green skin."
Their body recharges once the sunlight hit their body. They drink a considerable amount of water for photosynthesis. So water was available everywhere. They were earnest in protecting water resources.
Inferno said they even fetch water from far-off planets as far as half an Astronomical unit away.
"We enjoy fully when the rain falls," Inferno said.
The only problem for them was the winter season due to poor sunlight. So, during winter, most inhabitants set out in search of sunstroke. We drink water and carry six kiloliters of water for our voyage.
"Thank god we got fuel for our spacecraft. With our hungry stomachs, we headed towards Beta-89. We had some leftover foods in the spacecraft" Inferno explained to let us know.
Mysterious spacecraft, vehicles, and creatures crossed us off and flew there. They were delighted with the world they had.
Suddenly everything became dark, and we temporarily became blind. I realized that a very bright light suddenly stroked our eyes.
"What was that?" I asked Peter.
"It must be a gamma-ray burst. This brightness shows that this must have happened more than two hundred astronomical units away. If it had happened in our vicinity as near as eighty astronomical units, then we would have burnt or git blind, and our spacecraft would have changed into ashes," Peter replied in a scary scenario.
We were moving towards Beta-89. On the way, I saw that many stars and even galaxies were revolving very swiftly around a vast dark spot. I realized there must be a mighty black hole.
"There is a huge black hole we must change our way," I said to Peter.
"Don't worry. It doesn't engulf us as we are far off the Event Horizon" Peter gave me solace with his informed knowledge.
I was scared when we moved past the black hole.
"Beta-89 is right there," Peter said, stretching his pointing finger.
I saw a baseball-like bright mass.
"We would get there in nearly one and a half years," Peter spoke.
We were thrilled that we spotted Beta-89. But, we got bewildered that there was no Beta-89 when we reached there. How was the picture of the telescope fake? I thought about the likely error, and abruptly gravitational lensing hits my brain, and I said to Peter, "It must be the gravitational lensing effect."
Soon, we realized that the picture and the Beta-89 we have seen was just the image when the ray of light reflected off the Beta-89 suffered gravitational lensing by another planet of substantial gravity when they came across the same straight line. The planet was actual, but actually, it was lying elsewhere. We calculated the exact position of the planet using general relativity. We and found that Beta-89 is even farther than Vesma.
"Beta-89 is very far we don't have enough food for us, so we should begin our journey back to our home," I suggested.
"I am a little exhausted because of this long journey by now. Let's take rest in the Vesma," Peter agreed.
We came back to Vesma and managed our stay there for six months. Inferno worked on supplying food for us from distant planets. During our stay there, Vesmians became so friendly and close to us that they were not ready to farewell us.
"Don't go. Stay here forever," all Vesmians were saying with the same voice and emotions. Tearing eyes, Peter and me were heartbroken too at the moment of seeing them off.
"If we were alone and we didn't have relatives on Earth, then we wouldn't go. We have our families awaiting us, so we must go. But we promise one day we will be back to meet you guys," I tried to make goodbye consolation hiding my sobbing voice.
We waved goodbye and left them.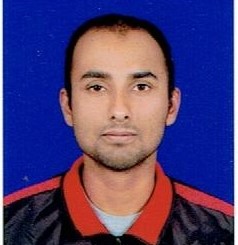 The writer holds an M.Sc. degree  in Physics and is currently teaching Physics in Colleges, Nepal.