I was ignorant of her. I didn't know her; her appearance, her talking style, her outfit, nothing. I just knew her by name. She was Kiran which means 'rays of light.'
Merely knowing her name, I was becoming happy and profound. My inner feeling was saying that she was mine. I was very eager to meet her though we hadn't talked and seen each other before.
I memorized her name, Kiran, interpreting it as a ray of hope. On that day, I took half day leave and headed to my destiny with some relatives. It is generally how traditional arranged marriage begins in our Nepali society.
She was neither my classmate nor my girlfriend nor my fiancé. However, I was confident that this was my girl. On the way her home, I didn't notice anything around me. I was in a vehicle heading to meet my ray of hope. I just heard the music playing inside the car. It was a Hindi song-'Tumse Milna Bate Karna …' which means 'It's really nice to meet you and chat with you.' I didn't notice the beautiful hill and forest our car passed through.
I was in deep thought. I didn't even hear the noise of the vehicles outside, though the window was open. I was feeling the cold breeze that was coming through the window. It was giving me a sigh of relief. One of my relatives contacted the girl's father and said, "We are approaching in the vicinity."
Now my heart started to pound swiftly. My face got red and I got fidget. I calm myself. I remembered Indian film actor Amir Khan in the movie Three Idiots saying all the time, "All is well," "All is well."
I prayed to god for everything to go well. "Stay positive and think positive," I said to myself.
Many positive and negative thoughts penetrated my brain as if they were surpassing the speed of light. I reached my destiny, which was the travel destination for others, but it was my lifelong destination. I would have to sing the rhymes of life with her together throughout my life.
I don't know how I came to Earth, but I knew I had to end my life voyage with this girl. Her father said that she hadn't arrived from work when I got there.
We waited for nearly an hour for the girl to arrive. But it became the most extended hour of my life. We drank tea during this vacuum hour. Someone whispered to me that she had come- I would go and meet her.
I met her in the backyard garden, where beautiful and colorful flowers were blooming, smiling and swinging. I noticed some of them – Rose,Hibiscus, Bougainvillea, Dahlia, Lily, Orchid,Tulip etcetera.
Many butterflies and honeybees were sucking the nectar from the flowers. The melodious chirping of the birds provided me with more courage and vigor.
I glanced at her face and observed her body language as she spoke. She was prettier than the flowers around her. I found her more stunning and more confident than I imagined her to be. I couldn't notice her hair as it was covered with a scarf. I guess it must be long and shiny.
I unwillingly terminated the chat with her as my relatives, who were my companies on the trip, were signaling that we had to leave for it was getting late to return.
We talked for an hour but this became the shortest hour of mine. I forcefully stepped away from her while I didn't want to. I thrust myself inside the vehicle but my head turned towards her. She felt ashamed and just glanced at me and walked inside her house.
I internally waved goodbye and said, "you stole my heart and I made you my better half."
On the way back home, other relatives inside the vehicle asked me if I liked her. I nodded and said I wanted her very much in a soft voice.
That night I was restless. I was very tired however I couldn't sleep. Many thoughts were hovering around me. What if she would deny to marry me? What if she didn't like me?
I had a fringe hope that she would accept me in some nook and corner of my heart. I laid on my bed and searched her on Facebook with this fringe hope in mind. My cell phone internet was so poor that it kept buffering but never brought her beautiful face and profile.
I got her Facebook profile the next day, but I couldn't dare send her a friend request. I thought she might get angry and think otherwise with my friend request.
The same situation recurred for a few days. Almost after a week, I didn't get any positive or negative signals from her side. I was hoping for a green sign from her parents, at least a phone call of confirmation of 'Yes.' But I never got any good news. All my hope shattered. I took myself back to normalcy and returned to my everyday daily life. I was busy with my work for some days and didn't open my Facebook.
When I opened my Facebook account after a few days, I saw a message from her- "why you didn't contact me? Do your parents pressure you to marry? Otherwise, why you didn't ask for my phone number? Why didn't you send me a friend request?"
I got bewildered by knowing that she was waiting for my message. I suddenly replied, "Sorry, I was busy. I have already taken you as my better half. I love you at first sight."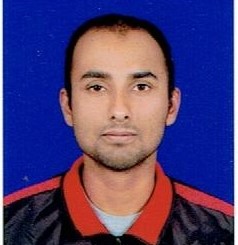 The writer holds an M.Sc. degree  in Physics and is currently teaching Physics in Colleges, Nepal.