It was Thankot, the gateway pass into Kathmandu Valley, as far as I remember. I was entering the valley for the first time in my life. Except knowing a little information about the crowded capital, I had nothing much on my head about it. I was much curious to know about Kathmandu by all senses on my own.
It was the year 1996 when I was waiting for the result of the notoriously labeled 'Iron Gate' School Leaving Certificate Examination, SLC, the popular acronym. I had much excitement and hope to kick break the Iron Gate and enter into the golden yard of higher education for a better future.
Traveling by bus, through the bus window, I saw a white paper with the word 'To-let' mounted on a glass windowpane of a house. I was the batch-topper of my time in school and would believe that I had excellent English back at my school in the village. That was the first moment I had ever encountered the word 'To-Let.' I thought: Somebody must have tried to write 'toilet' but forgot to write the letter i, or by some means, the letter 'i' must have got erased. I smiled smugly.
When I reached Kathmandu, I saw many such postings with the same saying 'To-let' everywhere on the walls, glass, or shutters. Somewhere it was hyphened, and in some other places, it was not. Wherever it was 'To-Let' or 'To Let,' I kept guessing that 'i' was missing from the word 'toilet.'
However, when' To-Let' did not stop appearing everywhere in the town, I started to doubt my English. Indeed, 'i' cannot be missing for so many people in so many places. A little thoughtful I became.
Mobile phones didn't exist in those days to look up in the dictionary apps like today, and in the first place, I was on a fun trip to Kathmandu after taking the long-awaited final examination of leaving school. So, I had not carried my Oxford Advanced Learner's Dictionary in my bag.
The word 'To-let' or 'To let' kept teasing me for many days all over the town. I could not even ask anybody about it, maybe due to some shame to show up the limitation of my English and maybe due to inconvenience to talking to new people. It was only after coming home from Kathmandu I turned the pages of the dictionary and found the word in it that I got to know the meaning. Then, I laughed at myself. I realized that day that there were many words in English that other people knew and I did not know.
I was a stranger, and everything was new and unknown in Kathmandu. As I was a shy and introverted teenager, I could not open up with anybody instantly. This personality always put me in trouble at a young age.
There was only one known person in the entire Kathmandu who was supposed to come to receive me at Gongabu Bus Park and take me to his residence. He was a friend of a friend of my father back in the village. And that was not his own house but had been living in his relative's then.
I got off the bus at the Bus Park around noon that day. That uncle got me and took me to his residence. He took me to a five-story house in a place called Mahalakshmisthan in Lalitpur. It was an ultra-modern house for a village boy like me. The floors were tiled and marbled, and the sitting room was well furnished with expensive sofas and chairs. For me, a boy who spent his whole school life with a kerosene lamp, the bright electric lights and bulbs were eye-blinding and brain-trembling.
There were a few people in the sitting room when we entered. The family members and some guests. They were talking and looked amused. I sat on a handmade bamboo stool woven in nylon strings. Sitting at the corner like a deadly silent, I felt bored among the strangers. Perhaps they, too, felt uncomfortable.
It was a July afternoon, so the father ordered his teenage daughter to serve coca-cola in the room. She poured coke from a large bottle into several small plastic cups and floated around in the space, stretching a tray full of those cups.
I sipped the reddish cold sugary liquid little by little. When I finished and put the cup down on the floor, the others were not even touching theirs. Suddenly, they started performing a prayer before drinking coke. I felt so ashamed that I wanted to go to the washroom. When someone showed it to me, I entered the bathroom and closed the door.
The door was automatic, and I never knew how it would work. After I closed it, I could not open it by pulling it. A small part attached to the handle had to be moved around to open the door, but how was I supposed to know that?
The toilet was so clean and shiny that I could see my face in it. I was confused about what to do for almost a quarter of an hour. Actually, I was not sure whether the toilet commode was meant for peeing, too, or not. I did not want to put myself in trouble in that novice place. I took some more minutes before I discovered the flushing button. Then, there was another problem for me: how I could get out of the room.
I accidentally pushed the small knob in the round handle, which had locked the inside door. It took me almost fifteen minutes to discover that I had to push the knob again and move the handle round to open the door. I thanked God for being kind to me at last.
After this weird encounter with a modern toilet, I felt uncomfortable using it again. For me, sitting on the modern toilet was the same feeling as sitting on top of a hollow cylinder. Also, I felt like I was sitting on the pool of poop and urine until I stood up and flushed. For such a disgusting feel of using the modern toilet, I mostly sat on my feet on both edges of the toilet. When I was a lodger in Sankhu, I spent the whole winter doing so out of the fear of getting frozen.
Even today, I get goosebumps in my body when I remember some unexpected encounters with unflushed toilets due to either the blockade of the toilet itself or the lack of water.
Toilets in government offices, hospitals, and other public places are places where people spit beetle and chewing gum and throw almost everything, including mineral water bottles, stone, bricks, plastics, paper, etc. I have many times skipped my lunch or dinner due to nausea or trauma of the filthy toilets.
Once, I encountered an absurd situation at a senior friend's residence. He was the editor of a journal in which I would contribute my writings. I reached his rented apartment with an urgent need of using a toilet. He was reading a book on the balcony, and his wife was in the kitchen. I handed the draft of my writing in his hands and rashly asked to use the toilet. Before they could say anything, I dashed to a nearby door and opened it. My friend was trying to say something to me, but I had no time to wait and decipher it. So, I rushed in and locked the door from inside.
No sooner had I opened the cover of the commode than I hated myself for not having the patience or time enough to stop myself and listen to my friend. The pot was full of big and small, long and short, yellow and brown sausage-like rolls of human feces. I felt giddy and almost vomited looking at the sight and smelling the strong, pungent smell. But I had no choice other than to unzip my pants and be ready for peeing. I closed both my eyes and stopped breathing until I finished it and came out.
Even today, whenever I remember that moment, I hate myself for being that helpless by holding the things until I smelled the nasty toilet.
I think the washroom is as important as the kitchen. Both should be hygienic, or we suffer. In many houses, I have found an elegant and clean kitchen. Only a few have an equally clean toilet. Many times, I have suffered because of an unkempt and unflushed toilet.
I used to be a lodger in Kathmandu many years ago as a college student. Once I had to take a quick transfer from Swayambhu to Nayabazaar with a quick decision that cost me very dearly. I had checked the room, but not the restroom. It was only the following day I realized my mistake when I was shown a dark cave in the name of a toilet. It was so dark that I did not know how big the room was and where the pan was. I could luckily hold the door with my left hand when one of my feet slipped off the slippery floor. Otherwise, I would have fallen into the ankle-deep smelly pool of poop and pee. I still feel nauseated whenever I remember that moment. I searched the public lavatory and used it for more than a week until I moved to another hotel.
A toilet is not less important than a kitchen to keep elegant. Pooping places should not be poopie!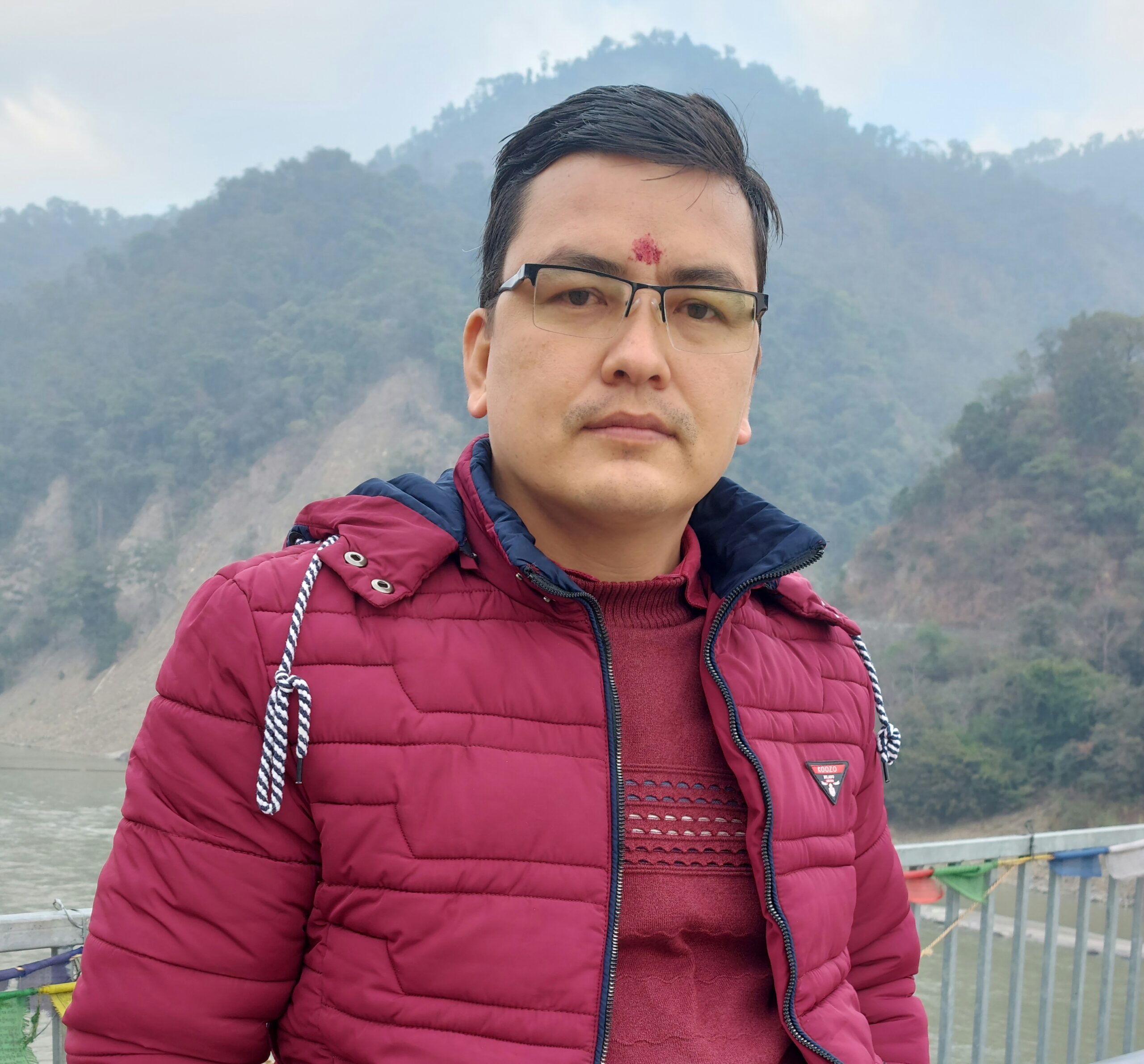 The writer Parshu Shrestha (1981), a lecturer of English language and literature and a creative writer, lives in Itahari, Nepal.