I suddenly lost my glasses one day. I knew they were sitting on my nose hooking up on my both ears until just a while ago. Suddenly they disappeared, and I forgot where I kept them or what I did to them.
I searched them everywhere. All the places where I possibly might have placed them. On the table, under the table, in the book rack, on the book rack, on the pillow, in bed, … I felt sweaty on my forehead, and I was breathless.
I was getting late for college. The first period would start at 6.10 am. It was already 6.15 am, and I was still looking for my spectacles.
"Oh, my God!" I thought, "What to do now?"
It would be challenging for me to go to college and take classes without my glasses of minus 1.5 on both eyes. Without them, I would have only a blurred vision of things and would not correctly figure them out. I could see the people, but I couldn't identify their faces. That would turn me into the famous character "Keshavraj" of "Doshi Chasma," The Faulty Spectacles, a famous short story by B.P. Koirala, a profound writer and politician of Nepal.
By now, I had already been too late for the first block lecture in the college. It was already 6.20 am. The students, especially the noisy and rowdy ones, might have already been to the Principal's office demanding for the reason of my absence. Some of the students, usually lauder for other things but their academics, always find a teacher's absence an excellent reason to come out of the classroom and go to the Principal's to take revenge against him.
In a few minutes, the Principal might phone me, and I would have no explanation on why I had been late.
I discovered the fact that I wasn't wearing my spectacles while I was hurriedly biking to college. I had made almost half the distance to the college. Reaching at the bridge of Khetikhola River, I suddenly came to remember that I forgot to put my glasses on.
I knew it was because of the myopia I was suffering from; I could not see anything clearly without wearing the glasses.
Looked at the watch. It was already 6.05 am. It was a relaxing time to make my way to the college if not had to go back home to find them. The first block bell would go after five minutes, but Hell to my oblivion! I don't have my glasses on my eyes. Now, I would have to go back home to find them.
What a misfortune! I was going to be unpunctual today.
I stopped my bicycle and turned back home, paddling faster than ever. When I got home, the clock showed 6:20. I was sure the first-period bell rang by this time, and students were already bunching at the door, looking at my way, maybe questing why I was not showing up yet. I would make them upset for sure because I was still in my room searching for my spectacles.
I had searched them everywhere; I might have possibly kept them in. Hurriedly, I turned over the things that might have possibly covered them. All my efforts were gone in vain. My spectacles had vanished beyond my reach.
"Where have they been lost after all?" I thought in despair.
Now, I felt my body had been hot and sweaty. My forehead was covered with salty drops of sweat. I was totally at a loss what to do now.
Finally, after almost five minutes of silence with pain and anger, I decided to go to college without glasses. So, I went to the mirror to make my hair and wipe the sweat droplets up from my forehead.
Lo and behold! The spectacles were there on my nose! I was wearing them in front of my eyes as usual! OH MY GOD! What a forgetful person I had been that day!
I had returned home from halfway to college just because of the lost glasses. I had realized it as I had not been able to see things clearly and had thought it was because of my myopic vision. I was missing them for such a long time without feeling that they were standing on my nose. What a nincompoop I had been!
I got angry with myself for my idiocy. Eventually, I reached college. Luckily, the Principal was absent that day. Some students were standing in front of the classroom and talking. Others were making noise inside by yelling at each other. Other teachers were taking their classes.
There were just five minutes for the second-period bell to go. So, I sat on the office sofa calmly and waited for it.
I kept laughing at myself the whole day.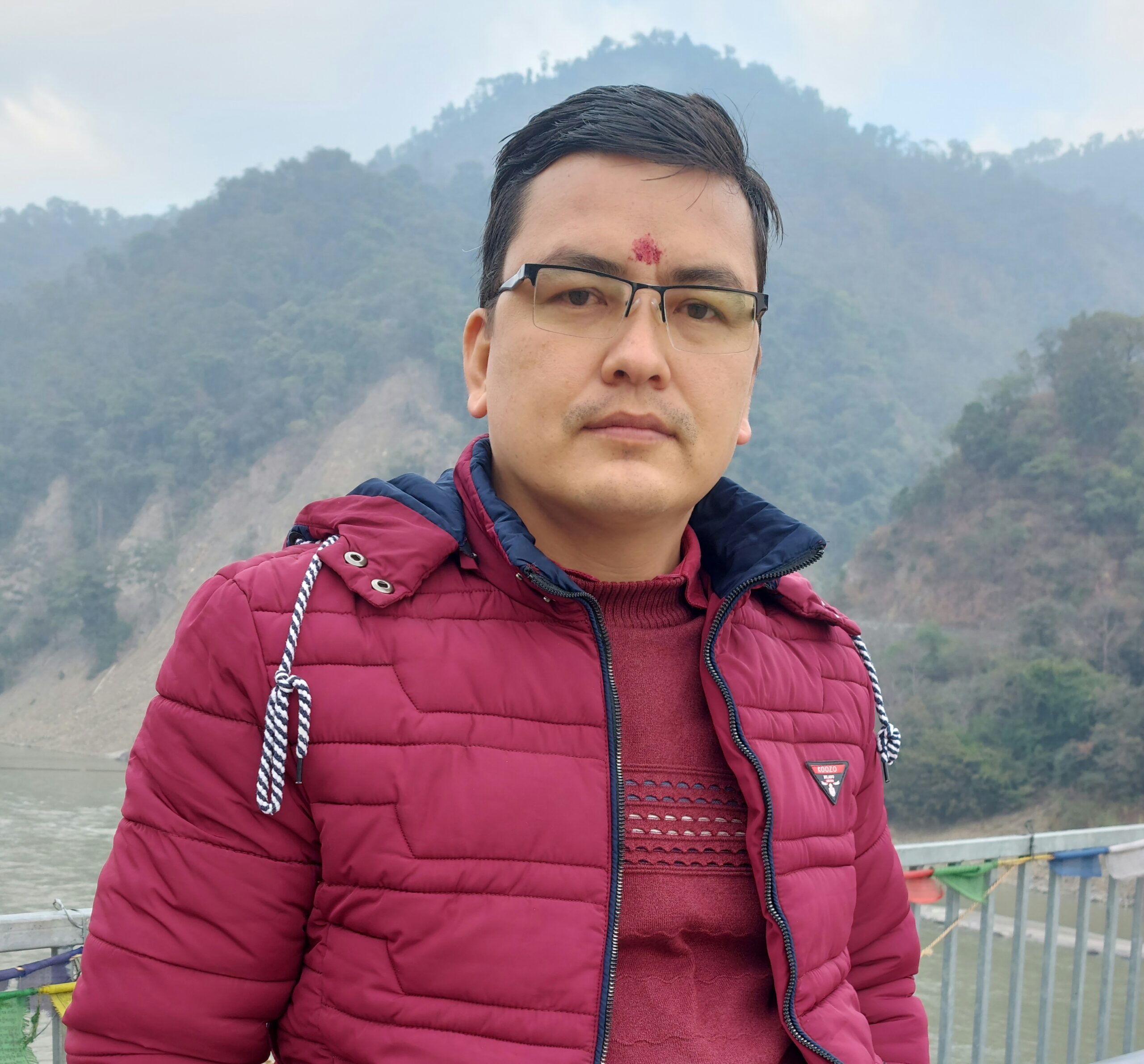 The writer Parshu Shrestha (1981), a lecturer of English language and literature and a creative writer, lives in Itahari, Nepal.