I could have been dead with the rest of my fellow beings who died of the
coronavirus in the last eighteen months in my country. And, also like the people in the rest of the world, who lost their dear lives because of the virus outbreak that first happened reportedly in December 2019 in Wuhan, China. But luckily I am here today.
The pandemic in a few days or at the most in weeks spread throughout Europe and in a few months in the rest of the world.
There were no medicines for it. No vaccines when it started escalating into a
full-scale rage and even some of the most accomplished doctors/scientists of the world-class had no solutions and remedies of this evil ill.
For months and months whenever I turned the television on, almost the entire coverage of the news used to be of Covid-19. Talk of the coronavirus has been the talk of the town and keeps becoming so to date everywhere. The fear of death has been pervasive globally. No matter who or what age, no one remained unaffected by the feeling of death anxiety.
When I saw dismal things, dejection, and despair throughout the world I
thought it would take a toll on almost all sooner or later. I knew the best thing one can do was take care and stay safe from the killer. But how? The answer is very tough.
At this hour of speaking, the greatest gain one could have is being alive.
I would not care if I lost things other than life at this moment. But the irony is that if life is lost, no chance would be there to worry about anything. Business, wealth, opportunities, and such are minor, inconsequential compared to life.
I might have lost many opportunities, a promotion or business prospects, or foreign tours. I might have lost money in shares, missed some investment opportunities. So what? Millionaires have also been alarmed by this killer micro-organism, and also have died of it. High fliers have also fallen down from their heights.
Many thriving businesses have shut down permanently. We have seen losses of lives and property on an enormous scale. And the loss of life outweighs the loss of any other things since life once is gone then gone forever. Property
loss can be re-earned.
"How precious the human life is" might have never ever been more intensely and deeply realized and thought at any time but at this. The value of life above all else has never ever been pronounced this much in our lifetimes. It is
a lucky asset that we are alive to date to see the rising sun in the morning and to
feel the warmth of family. This is the gain of being alive.
We humans no matter where we are physically stationed are not heedless of
the global goings-on. We have started living on a global superhighway once we are cabled by the internet. Whatever happens in Inland China or in Midland London we get instantly informed in a few minutes.
These days, we are hardwired to all kinds of events and episodes that keep us remain updated straightaway. Even in the remotest areas of Nepal where there are no road connections the wire connection is there working. Barefooted cowherds or shepherds taming and grazing cattle in the isolated woods are also well competent to use smartphones and chat for hours regardless of their class of economic disadvantages.
The faster dissemination of information through media puts us at an unprecedented advantage no doubt but it, at the same time, grips people by sickening them to fear of something indefinable. The virus spread no doubt by leaps and bounds and so did the information about it keeping people from all corners of the world panic-stricken.
There are reasons to remain bothered and panicky when somebody in a house next door dies of coronavirus from the coronavirus who was actively alive laughing and giggling only a few days ago. Since the human being is a social animal s/he cannot live by locking him/herself away from social connections for long. One has to interact with people for many reasons and purposes. Therefore the fear of getting infected cannot be totally avoided.
The epidemic has taught us that life is full of uncertainties. One has to
stay prepared for the unimaginable hardship and sufferings. Again, the single most important thing is that we are alive today, can eat well, sleep well and move.
As far as we are healthy and full of life there is no reason for getting bothered about the rest of the things. Some of us are fortunate to have uninterrupted sources of income and can feed ourselves well but there are many others who have lost their jobs and their businesses closed. Some others are drowned in debt up to the neck as a result of the pandemic.
Students are missing their schools, colleges, and their friends. But the internet is there for us. We must feel immensely privileged and advantaged with the advent of this technology. It made it possible for us to talk face to face virtually and can laugh and cry and see and feel the tears and smiles of the other living thousands of miles away.
Nature is sometimes cruel to us. History chronicles a great many wars
and documents unimaginable human suffering sometimes from earthquakes,
famines, and floods, and other times because of conflicts and wars between
nations and ethnicities.
Nepali people in the mountain regions are living through a great deal of
insecurity. Every year, when summer comes the feeling of insecurity
and fear intensifies.
The hills above their houses can slide and hit and smash their houses anytime. The rivers that flow nearby can overflow and flood their houses and destroy their crops anytime. Continued landslides shatter their hopes and damage their farms, crops, and houses irrecoverably and shadow their futures interminably. Floods inundate their houses, their cornfields, their harvest-ready crops, kill their cattle leaving tens of thousands impoverished forever.
Mothers become restless with terror when their kids have to walk to school. Even the nearest school is a good stretch of the walk for young feet. The ways to schools often getting blocked by the flood or landslide is another reality that they have to face every now and then. Even the way to their schools and marketplaces remains unsafe with the possible risk of encountering a hungry wolf or a tiger lurking in the jungle to gobble up the passerby.
Even in big cities, life is full of perils. In many conflict-ridden areas or
countries, people are living in a state of perpetual fear. There is a
likelihood that anytime planes flying above their roofs might drop bombs.
Even in highly industrialized and developed nations, there is a fear of
getting kidnapped or of getting hijacked when flying in airplanes.
Or any suicide-bombers might explode their colossal buildings.
Being alcoholic and drug-addicted on the pretext of getting relief from anxieties and stresses are everywhere. In a world that is ravaged by all these menaces like wars, hijackings, kidnappings, alcoholism, drug addiction one can hardly find stability and security wherever one goes. And the pandemic of Covid-19 has added fuel to our woes and aches making life all the more miserable.
But life cannot stop but goes on eternally. There is a famous Zen quote: "This too shall pass."
Take a little patience and the pandemic will over for sure. Go to have a good night's sleep and you are going to wake at cool and fresh dawn.
I am not outside all these things as a human. A poem by Saadi Shirazi, a
Persian poet placed at the Entrance of the United Nations Building in New York City seems relevant in this context.
Human beings are members of a whole,
In the creation of one essence and soul.
If one member is afflicted with pain,
Other members uneasy will remain.
If you've no sympathy for human pain,
The name of a human you cannot retain!
An interpretation of the poem by M. Aryanpoor:
"I as a human must live in harmony with the rest of human beings with a lot
of empathy and cooperation. We are members of a whole though live
dispersedly in different zones of the world. We may have different
religions and cultures, look different in terms of our colors and shapes
and may have different nationalities but the same earth holds us together.
We are rooted here in the earth though some of us are growing very high
branching out and some others are shrinking unable to even rise and thrive.
Though we are flowering in different colors but beneath the surface, we are
not different in roots."
One of the most precious gifts we are gifted by nature is "forgetfulness."
We forget all our past pains and tragedies and bury the memory of the
departed beneath the yesterdays to join the endless laugher and ecstasy
life is proffering us when we wake up to a cool morning breeze. Each day is a
new day, and each morning the rising sun brings rays of hope, joy and we
celebrate summer festivals after the dreadful winter of life.
I am in the autumn of life, in the early sixties, and have left many shadowy
days behind. A quote what Santiago says in The Old Man and the Sea that keeps me inspiring all the time:
"Only I have no luck anymore. But who knows? Maybe today. Every day is a
new day. It is better to be lucky. But I would rather be exact. Then when
luck comes you are ready."
There are indeed many trials and tribulations in life but in between them
there are pauses for celebrations. Now I am alive though do not know what
comes next. But I do not want to spare this joyous moment even though death
may be lurking in the shade somewhere around.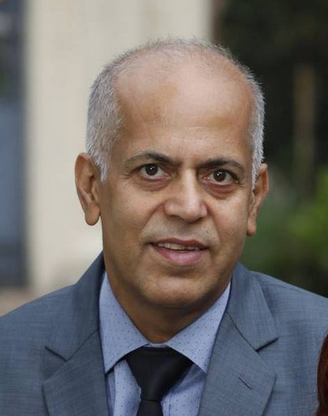 The writer, a retired banker from Lalitpur, Nepal, has a passion for reading, writing, traveling, and gardening.