In the spring of 2020, the Covid-19 pandemic placed people worldwide under house arrest. Only grocery stores remained open.
My work office shut down, but the government continued paying my salary. Because the internet and other media sources were available, I was happy initially despite being trapped at home.
I enjoyed hobbies that would generally get pushed aside: writing poetry, painting, and singing. But after a few months, I started getting bored. I was missing my other outdoor activities, office, and friends.
On one delightful morning, I was sitting on my patio when the sound of the neighbor's parrot squawking pulled me back into my childhood. When I was a young boy, my family also had a parrot. We put him in a cage that hung off the porch of the red clay house. It was winter break—a sweet respite from school in my memory. The only way to avoid the cold of Push and Magh of winter months was to snuggle inside blankets all night.
When the sun rose, we laid outside on straw mats to soak up as many rays as we could. In the light, we would flip through the pages of our textbooks for the next semester. It would have been routine for our father to give us homework if we did nothing.
Apart from that, my grandmother used to ask us to do small tasks like, "Do this, do that, call this guy, call that guy," etc.
When sitting on the patio, my attention focused on the parrot rather than my book every morning. I was very jealous of the parrot because he was always sitting comfortably in the cage. He didn't need to complete tasks from my grandmother or do the homework assigned by my father. He received free food from my grandmother three times a day. His regular job was just to eat and poop. 
Everyone called him 'Gopi' with love. My friends Rame, Shyame, Kamali, Bimali, or whoever came over to my house, started talking and playing with him even before saying 'Hi' to me.
I desperately wished to take the parrot's place. I put my hands together and prayed to God while sitting in front of the sacred plant of Tulsa like my grandfather did every day. I requested God to swap my life with that of the parrot.
One day, my prayers were finally heard. When I opened my eyes from sleep, I found myself sitting inside the cage as a parrot and human Gopi was lying on the straw mat next to me. My grandmother gave me food while Gopi recited my father's lessons from yesterday. Grandmother did not invite poor Gopi for lunch till the late morning.
Even after the lunch was ready, he still had to complete many tasks. Gopi took the small amount of lentil soup, rice, and vegetables that grandmother offered to the deity and put them outside on the fence wall. Then he had to go and let grandfather, father, and my brothers know that lunch was ready. After that, he had to set Pirka (cushions) and fill the Ankhora and Karuwa, traditional water containers, with drinking water for everyone.
After eating, he took the ducks out of the coop and brought them down to the pond. He had to take care of the goats and sheep too. I was having fun observing him working hard. As usual, in the afternoon, my mother went to work in the field, and my father went to his office.
Grandmother laid a large straw mat outside in the patio to dry the corn. Gopi carried the corn in a basket and poured it onto the mat. He accidentally scattered some with his feet, and the sparrows and Gauthali immediately came out of the nests in the house walls to pick up the grains. Gopi chased them away with a stick. I laughed with pleasure.
My day passed like this with ease. Gopi took me inside the house in the evening and put me on top of the counter near the kitchen.
"You see, you have to take care of me too," I teased Gopi.
He smiled and shouted "Gopi Krishna Kaho" at me, a phrase in the Nepali language to ask a pet parrot to say Lord 'Krishna' by conditioning it to a particular food or treat after every satisfactory attempt by it. People automatically say this phrase when they see a parrot in a cage.
I joked with Gopi, "Balla hhaaha paais tero baau" which means "Now, you know your father."
I do not know if he understood because he kept saying "Gopi Krishna Kaho" in a louder voice before crawling into my grandfather's lap.
My grandfather would always cover himself with the warmest blanket. So, it was very cozy. His lap was our favorite place to sit in the winter. Seeing Gopi in my grandfather's lap, I felt a little jealous.
After dinner, everyone went upstairs to sleep. I was alone in the dark. I heard Gopi laughing with my brothers upstairs. Gopi came downstairs to get some sweets for the Swasthani offering in the kitchen a moment later.
I asked Gopi to take me upstairs with him because I was afraid. He did not care. He climbed the ladder saying, "Gopi Krishna Kau."
I heard my elder brother reading the story of Swasthani, a holy book of Hinduism mainly read in the winter, and Hindu women specifically follow rituals of prays and worship of Lord Shiva based on the book for a month.
After the story was over, everyone ate the Prasad, offering treats to God, and later, people ate it as the holy bite of blessing. and went to sleep. It was starting to get very dark.
In the middle of the pitched dark night, there were no sounds other than the whimpering of our brown dog sitting under the balcony and my father snoring like a tiger.
My heart was pounding. To everyone else, I was just a parrot. But on the inside, I was still a child. I was always scared of sleeping alone. It is easy to imagine my fear as I sat in that cage alone downstairs. I cried the whole night, remembering my mother. When sleep finally dragged my eyelids down, a loud noise in the kitchen woke me up in shock. I made eye contact with two yellow eyes that shone like 40-watt lamps hanging on a roadside pole. I was scared to death. I felt like my soul had left my body.
"Mommy!" I shouted and tried to chase him away. But for him, I was just the parrot that he sees every day. The meowing cat did not care. He headed towards the attic while I stayed stunned for hours.
The following day, I tried to tell my grandmother that I had solved the mystery of the night milk thief. She used to always blame me, her own grandson, for it. I told her that it was not me. It was the black cat who always drank her milk. She did not understand me. Even I forgot that I was just a parrot.
She thought I was just hungry, so she put more food in my bowl. I looked at my mother instead and begged her, "Mommy, I was scared to death last night. My soul was gone. Could you please call my soul back like you used to do other times?" She also got bothered by me and asked Gopi to take me outside. Gopi took me out and hung my cage up on the porch.
He teased me again, saying "Gopi Krishna Kaho" and left. I cried a lot, but nobody understood my screams nor saw my tears. When I used to get scared about something, my mother would make me stand in the doorway and sprinkle holy water on me to call my soul back. I didn't know whether it worked or not, but I always felt better afterward.
That day, I was trapped in the cage while Gopi received my mother's love and care. There was no work for Gopi that day. He sat on the straw mat and teased me by flipping through my new textbook. My friends came running and made fun of me by saying, "Gopi Krishna Kaho."
While they were teasing me, they even spit on my body. Then they went to play marbles with Gopi. I was bored sitting in the narrow cage all day. I was missing my mother's love and my grandfather's warm embrace. I did not have my friends with me. I got to rest on my own in the cage but lost my freedom. I became paralyzed from my own desire and was now in pain. I tried to shout that "I sent myself to jail thinking I was smart, and I lost freedom for the sake of comfort."
"What is wrong with this creature today?" Grandma shouted at me and added more food to my bowl. I was fed up with the same fodder. I started screaming louder and louder. When my father came back from the office in the evening, grandmother told him everything. I began to cause more trouble when my parents approached me. My father quietly went out and returned with another man with a long mustache a moment later.
Gopi came to me and said, "You will be sold to that mustache guy now."
I was shocked to hear this news. I started crying and begged Gopi to tell my parents the truth. Gopi ran to my mother and told her everything, but no one believed him.
"Why are you saying nonsense? Please don't disturb me, go away," said my mother.
The mustache guy paid the price and carried me away.
"Mom, I'm not a parrot. I am your son, Atmaram!" I shouted.
I tried to get their attention by hitting the cage with my beak and legs. At that moment, my brother, who was sleeping next to me, woke me up and said, "Why are you shouting? Why are you hitting me? Why do you need the parrot in the middle of the night?" I was sobbing.
My mother heard me crying and rushed into my room. I ran to hug her and said, "I don't want to be a parrot, mom. I'm fine with what I am."
She was so confused and had no clue what I was trying to say. She let me sleep with her that night. I woke up the following day and went downstairs to the blazing sun. Gopi was inside the cage as usual. I approached him. He made the same noise, but I really understood him this time.
"Go free," I said, opening the cage and leaving the door wide open. He fluttered his wings and flew high into the sky. I kept watching until he was just a spot in the distance. I breathed a sigh of relief. The moral of this story is simple but a bitter truth of life, "Be happy with who you are."
Dr. Amar Karki, Palm Beach, Florida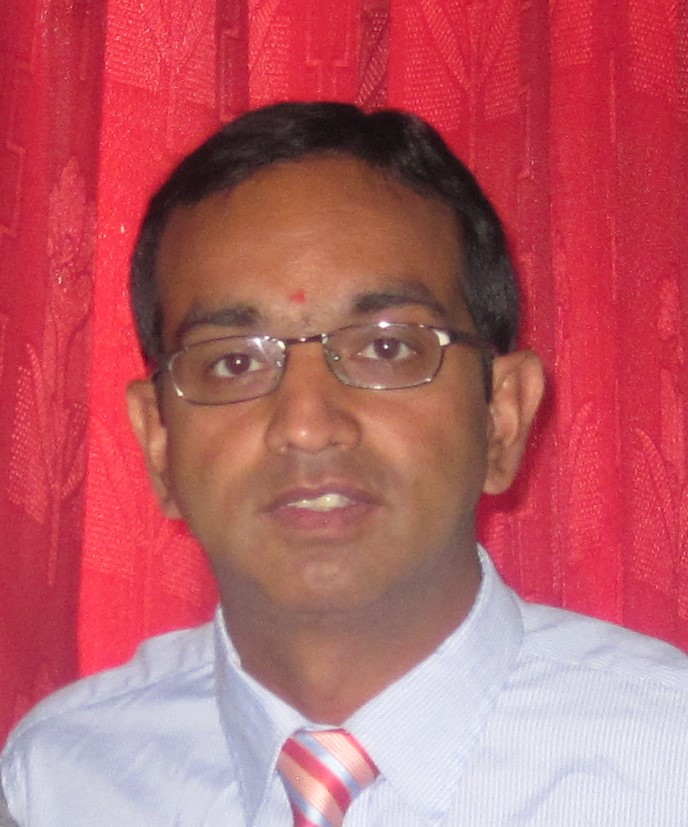 Dr. Karki is a Research Scientist and lives in Palm Beach, Florida, United States. He is also fond of writing poems, songs, essays and stories.