My name is Prakriti Bhattarai. I was born as the 1st child of my parents Mr. Lokendra Raj Bhattarai, and Mrs. Shanti Bhattarai, in 1986, in Kathmandu, Nepal. When I was ten months, my parents took me to Chitwan where my maternal relatives live there.
I was four years old when I was diagnosed with Cerebral Palsy in Patna, India, after nobody could diagnose, neither any doctors nor any physiotherapists in all over Nepal.
According to my parents, I could not hold my head, either crawling and sitting, while other children of my age had already started doing so. With a faint hope to treat me and give me life, my parents took me to Patna. In Patna, India, they learned that I had Cerebral Palsy that I wouldn't be able to live my life like an average child. And that if I regularly do physiotherapy, my condition would not be that worse.
After visiting the hospital in India, my parents sent me to my Mamaghar, (Uncle's house) in Chitwan to live after that. I lived there in Chitwan until I turned six. My parents had another child, my little brother, during that time.
My family moved to the capital Kathmandu when I turned six. Settling down in Kathmandu was on its way, my parents tried enrolling me in a regular school, namely Shining Star Boarding School, located at Sanepa, in Lalitpur. My younger brother went to the same school.
After one year of schooling in that school, reasoning that they did not have the curriculum to accommodate my way of learning and that due to my presence, other kids' learning got distracted, they refused to keep me in school.
My physiotherapy was still going on then. My father works for the government as a police officer, so he was away from us most of the time, being posted in many different remote villages. Mother would work as a teacher in an ordinary private school then. She often locked me alone inside our rented room and went to work, and many other times, she begged friends and relatives to babysit me.
Under the Self-help Group for Cerebral Palsy Nepal, Special Education Program opened in 1994. I joined the Self-help Group for Cerebral Palsy with my mom. She resigned from her teaching job because she wanted to devote her time to teaching children like me. My mom keeps a strong belief that children with Cerebral Palsy also need education based on their level and ability to learn.
I was so disappointed that, being different from other children, none of any traditional schools was admitting me. I felt hopeless and irritated with life because I thought that I was the only one born different. Joining the Self-help Group for Cerebral Palsy, I saw lots of fellow children and contemporaries having one form of difference or the other. Some were more severely different than me. Seeing and meeting many other children with disabilities and making them my everyday friends, slowly, hope and dream started to sprout in my life.
There I studied up to the curricula specifically designed to accommodate children's learning challenges with diverse forms of disabilities, which was equivalent to grade four of regular school.
I focused on extracurricular activities like sewing, cutting, arts and crafts, etc. In the meantime, I got chances to participate in different skill-trainings such as sewing and cutting, computer basics, and graphic design.
My parents and I started to finding suitable jobs for me. Still, it was very tough to find a job for me because of my disability. We stressed out a lot then. Finally, I found some jobs like a front desk clerk in an office and a private school teacher to teach students with special needs and without.
During my work life, I got to undergo all sorts of emotions happiness, bitterness, exclusion, sorrow, humiliation, unity, etc. I continued my study alongside the work from Bigyan Secondary Boarding School, Kapan, Kathmandu.
When I passed grade eight, it became extremely inconvenient to continue studying in my physical state to commute home to school and back every day. So, I stayed home and studied at home, and did my schooling privately. I passed SLC from Bishwa Niketan Higher Secondary School, Tripureshwor, through open learning.
When I was a teacher in one special-needs school, I got an opportunity to register for the International Employment Achievement Award in 2018 organized and held by ADAPT, Able Disabled All People Together Center, Bandra West, Mumbai, India. It was organized on the occasion of World Cerebral Palsy Day. Fortunately, I was nominated and got the title 'Individual Employment/Entrepreneurship Award' from ADAPT.
After the ADAPT Award, I joined one newly opened Youth Advisory Group named "Sambhav" under SAMA Nepal. I got another opportunity to participate in Community Initiatives in Inclusion Course 2020 For Master Trainer through SAMA Nepal for three and a half months at the same ADAPT, India, with my two other Nepali friends. I learned so many things about Disability, Inclusive Education, Multiple Intelligence, etc., from different trainers/lecturers of various faculties.
I also got the opportunity to visit different types of special and regular schools. I gained the ideas of institutional management to implement them into my community and the country. There I got the opportunity to learn and improve the English language., which helped me improve my English learning skills. I participated in Yoga classes which helped me stay healthy both physically and mentally.
Yoga classes increased my ability of anger and stress management. Earlier I was very short-tempered, stressed, and used to get angry easily. During this course, I got the chance to meet and interact with the person from different environments, societies, and backgrounds, and it showed me different angles of human life.
I got love, care, support, and encouragement from everyone in everything, like a family. Living in India for three and a half months, I never felt far from my family. There we celebrated birthdays, different occasions, and festivals. I want to thank all of them who were associated with my uplifting, directly and indirectly.
This course was about to complete, but unfortunately, the coronavirus spread all around the world. Some lecturers of this course from the women's council of the U.K. cancelled their visit. Some of our friends from this course returned to their hometown with the help of some rescue and chartered flights from their own country, and the rest of us were stuck here at ADAPT in a lockdown situation.
By god's grace and blessings by all my well-wishers from all over the world, I got the opportunity to work as a computer operator in the Women's Development Branch of Lalitpur Metropolitan City.
I believe this is a massive opportunity for me to set an example of myself in front of all people with disabilities and their parents.
Days passed by. I got the invitation to attend a zoom meeting from ADAPT India. While observing that meeting, they selected me as one of the fifth winners of 'Corona Champion' by seeing my performance during the COVID pandemic when I was in India for training.
I am currently working as a Computer Operator in the Women Development Division of Lalitpur Metropolitan City. Here we are working for the betterment of Women and Person With disabilities.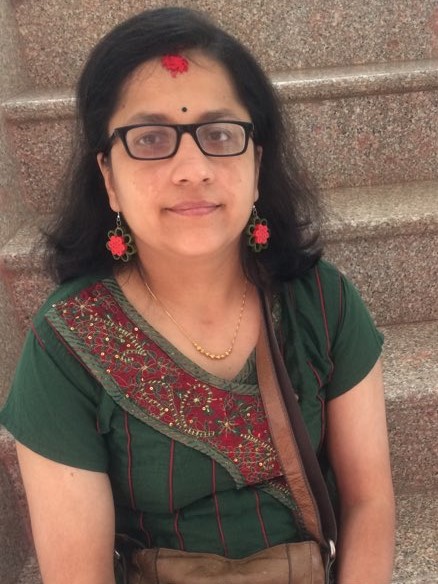 The writer is a woman with severe Cerebral Palsy and lives in Kathmandu, Nepal.